Nobody wants to consider that their car will break down or there will be a problem with it. But with colder weather now in full force here in Michigan it's important to take some winter maintenance steps to ensure your car works great, even in this colder weather. Failing to do some of these can lead to a breakdown of your vehicle and with this colder weather can be very problematic. I've included 7 tips that you can do yourself or have done to your car during routine service. 
7 Winter Car Care Tips for Michigan Residents
Although winter is upon us here in Michigan many of these tips can be done any time of year. In fact, most of these car care tips should be done at least annually to ensure your car performs as it should. Another reason why following these tips can really help is safety. Not only will the following tips help your car run better in cold weather it can also make it safer.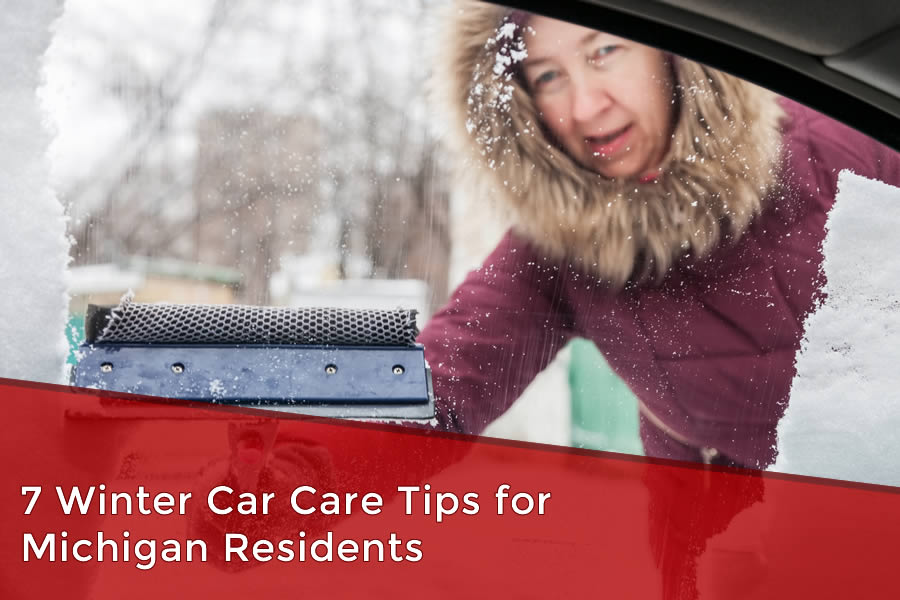 How's Your Headlights?
With winter comes shorter days and if you're like so many other driving to and from work may now be in the dark rather than day light. Driving more at night means you'll need to have good headlights and lights on your car. Give your car a quick check to ensure all the lights are working as they should every few weeks and if your head lamps aren't as bright as they should be consider getting them replaced with brighter, higher quality head lamps. Typically, head lamp replacement is relatively inexpensive and can give you much better safety on the road.
Cold Weather Tells on a Bad Battery
As the temperature drops the strain on your car's battery to start the car goes up. For batteries that are on the brink the cold weather may cause it to fail. Since car batteries are rated for cold cranking amps this is the most stressful time of the battery. Have your battery tested if it's over a few years old. Many auto repair shops in Michigan will check your battery for free in many places.
Keep Your Gas Tank Full
Although gas doesn't freeze in the weather we have here in Michigan there can be problems during colder weather. If your car has any moisture in the fuel tank it may freeze which can be especially problematic if it freezes around the fuel pump component. Keeping the tank full will usually encapsulate the fuel pump in fuel so even if there was condensation in the fuel tank it wouldn't matter.
Ensure You Have Washer Fluid
Frozen windows and frost on your windows needs to be cleared before you try to drive. Keeping your washer fluid full of fluid that is freeze resistant and helps to clear ice from the windows can certainly help. Making sure it's freeze proof also protects the washer fluid tank and components as well so that it doesn't freeze and burst components.
Keep Your Tires at Correct Pressures
Colder weather also makes the tire pressures on your car fall. Be sure to keep an eye on how much air pressure is in your tires during the colder months. Also if you have a tire pressure indicator on your dashboard be sure to check the tires if it illuminates.
Have Coolant in Your Vehicle Tested and Full
During the hot summer months and cold winter nights the coolant in your car is supposed protect your car and keep it at the right temperature for operation. When the car sits a while the coolant isn't supposed to freeze and if it does it can cause all sorts of problems. Making sure your car has enough coolant and it's up to specifications needs to happen. Checking the coolant condition is usually done during an auto service on the car by a qualified auto repair shop in Michigan.
Keep Survival Items in Car
With this cold weather here in Michigan being prepared for an emergency is a must. Be sure to keep survival items in the car just in case there is a problem. An extra blanket and emergency supplies in case your car breaks down and you don't have access to a cell phone to call someone.
I hope you've enjoyed these tips for keeping your car in great shape this winter in Michigan. If you need service on your car be sure to visit Good Care Auto in Downriver Michigan for auto service and repair.