Breaking down and needing a towing service can happen at any time for a variety of reasons. During the colder weather having a towing company that can come to you and make repairs or tow your car quickly is a must here in Downriver Michigan. But one thing you will need to consider is that not all towing companies are the same and choosing the wrong towing company may mean you'll be sitting there for hours and paying much more than you should. The tips included in this article can help you choose the best towing service in Downriver Michigan to help you save money and get the best service. 
7 Signs of a Great Vehicle Towing Service in Downriver Michigan
Getting your car towed if there is a problem can happen because of a variety of reasons. The may just stop working and won't start. Sometimes a simple solution such as a jump start or tire change can get you back on the road safely. And while having a towing service in Downriver Michigan that offers these services can really help it's important to also consider that you may have to have your car towed to the repair shop as well. In any case, make sure you read the following tips to help you get the best towing service for your car.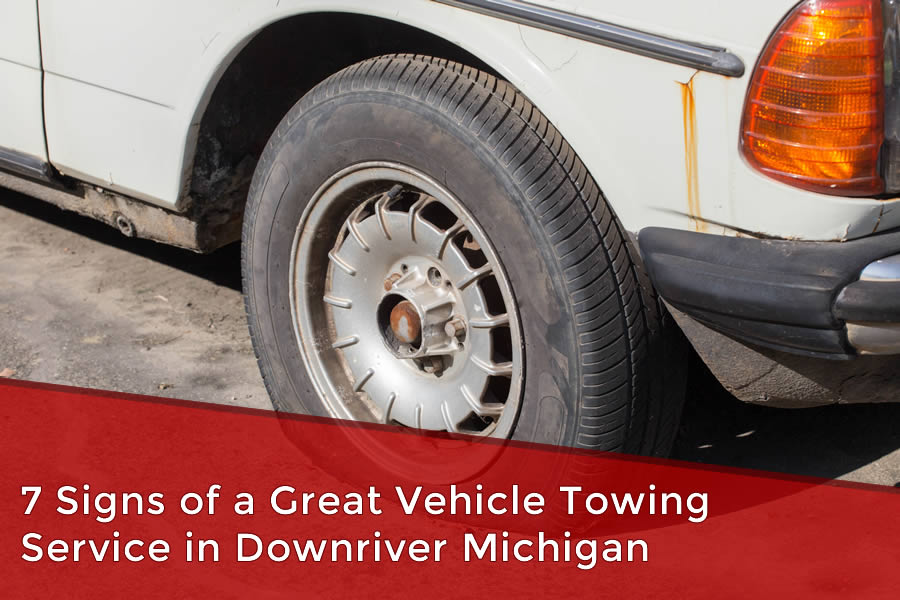 Customer Reviews of the Towing Company
Today there are many places online that offer reviews of businesses. Google, Yelp, and Facebook are all places where a business will be reviewed by previous customers. Make sure you check out these reviews before hiring a towing company. You can learn a lot of stuff just by reading some of the reviews of past customers.
Upfront Pricing on Towing Service
Being hit with all sorts of charges and fees that you weren't aware of can be costly and very frustrating. Look for a towing company in Downriver Michigan that offers upfront pricing and quotes. Ask about any additional fees or charges as well that may be related such as storage fees, mileage fees, etc… Some towing companies may charge storage fees even if the car is repaired at the location so be sure to ask beforehand.
What About the Employees
A towing company that goes the extra step to ensure you get great service is great to have. Find out about the employees that will be towing your car. Do they have drug testing or background checks before hiring? Are the mechanics that operate the tow vehicle have proper certifications for your vehicle? These are things that may not be a deal breaker but can certainly help you better understand what type of repair shop you are hiring to tow your car.
Make Sure Your Vehicle is Secure
When you have your vehicle towed try to remove any valuables from the car. Most towing companies will only tow the car and place it in a fenced in area. Ask the towing company about security for your car and if there are damages be sure ask about liability for those damages. If you have a phone with you take some pictures before the car is towed just in case.
Do They Have the Proper Equipment?
Towing services today have different model tow trucks for different situations. Depending on the area, reason for towing, and your car will better determine what type of tow truck you need. Sometimes having your car towed by a tow truck that isn't rated for your vehicle can damage your vehicle.
How Fast is the Service
When you're stranded in a broken down car, the minutes can seem like hours. This is especially true during the cold of winter here in Downriver Michigan. Be sure to ask about response time and how soon the towing service can get to you. If it's a long wait period there may be others needing help ahead of you and you may want to try somewhere else.
Fully Staffed and GPS Enabled Fleet?
As a bonus to getting fast service some towing services will have a GPS enabled fleet which can give you a much more precise time frame when the tow truck will arrive. You'll also want to make sure the towing service is fully staffed and offers towing service during any time of day as well.

Need Towing Service? Call Good Care Auto
The above tips can really help you get the most when your car breaks down. One towing service in Downriver Michigan that can give you excellent service and adheres to the rules above is Good Care Auto. Be sure to call Good Care Auto if you need towing service in Downriver Michigan at 734-248-1188