With Labor Day now behind us, one thing we can count on is that Jack Frost will soon be here. Getting your car in shape for a Michigan winter can help you make it through the cold, ice, and snow. Many people will winterize their cars for the season. If you've never winterized your car before I'll go over some tips to help you keep your vehicle in great shape this winter and not leave you stranded. 
Tips for Winterizing Your car for Michigan Weather
There are many tips that I can go through to help you get your car ready for winter. While some are not so important, and very trivial, there are some that you'll certainly want to take in. All the tips below are included and not referenced from owners manuals. For your specific vehicle you'll want to consult with the owners manual to determine things you should do to winterize your car. This includes things such as oil viscosity and anti-freeze coolant recommendations. If you no longer have access to the owners manual be sure to visit a certified ASE repair shop in Michigan to have your car serviced for this winter.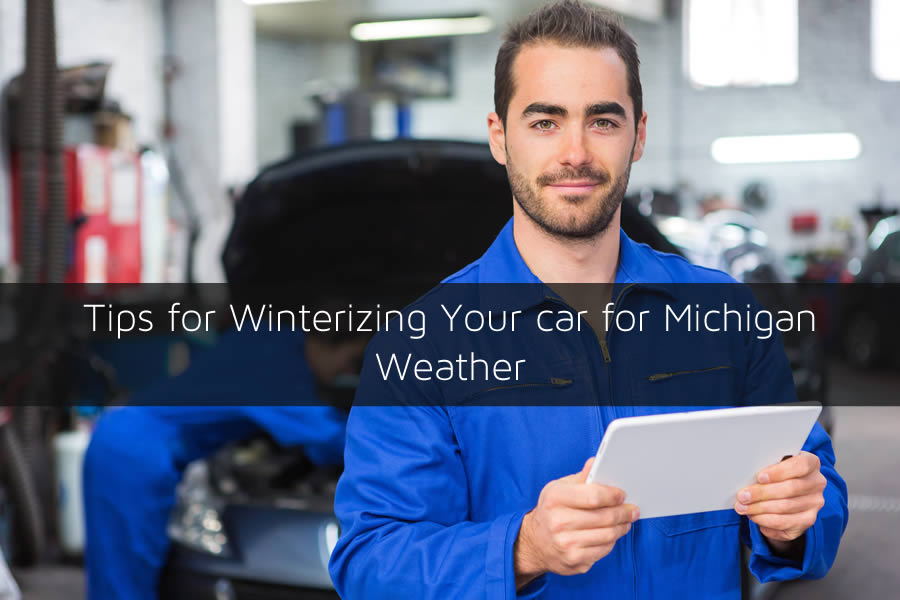 Changing the Oil in the Car
Keeping your car regularly serviced is important. Changing the oil regularly in your car can help the engine last a long time. One of the characteristics of oil is the weight or viscosity of the oil. As the oil is colder it becomes thicker. During winter this means that your oil will take longer to reach vital engine parts when the car is started when it's cold. Changing to a lighter oil can help this however, you'll want to check the recommended oil for your specific vehicle. Keeping the oil and oil filter changed can also keep the oil freely pumping through the engine. A partially stopped filter can have a devastating effect on the engine during startup when it's cold.
Regular Service and Things to Check
Before winter gets here it's a good idea to have your car serviced. Not just getting the oil changed but you'll also want to have other things checked as well. This includes the anti-freeze level of the car. Most ASE certified shops will also be able to check the anti-freeze to ensure it is still working. As the anti-freeze gets older it can break down and not protect your car as much. Other items that you'll need to check are fluid levels for steering and braking. A regular service can also identify a problem before it happens such as a fan belt or other issue. Having regular service can mean getting this repaired before it becomes a problem on a freezing night.
Check Your Windshield Wipers and Fluid
One thing that most of us never think about until we need it is the windshield wipers on our cars. Older wiper blades can't clear the windshield quickly and may present a danger to you while driving. You'll also want to ensure you are using a windshield wiper fluid that is rated for winter and won't freeze. Wiper fluid that freezes in the tank can cause leaks and problems in the system.
Are You Using Snow Tires
Some car owners will have snow tires installed for winter. If you don't currently have snow tires on your vehicle, having snow chains may be needed.
Have Your Car Battery Checked
Winter is the prime time for a battery to stop working. As the temperature drops so does the cranking amps for batteries. Older batteries will usually fail during the colder times of winter. Have your battery checked during regular service to ensure it's still working good and providing enough cranking amps to start your car.
Stock Some Emergency Supplies in the Car
Keeping emergency supplies in your car is a must. Being stranded on the side of the road during winter in Michigan is no laughing matter and can quickly become a survival situation. Keep emergency supplies in the trunk of your car in case of a worst case scenario.
I hope these tips to help winterize your car is useful to you. If you live in southeastern Michigan and need to have your vehicle serviced I would recommend Good Care Auto. Good Care Auto is a fully ASE certified repair shop that services both domestic and import vehicles in southeastern Michigan.