When it comes to accidents many people think that winter is the worse time but actually during summer, there are more traffic fatalities. More people are usually on the road during summer and taking longer road trips. Sometimes we try and squeeze a bit too much vacation in and this can cause a problem while driving as well when we push our driving a bit too far along with our cars. Drive safe this summer in Michigan with these tips that can not only help you be safer but also keep your car in top shape this summer. 
Drive Safe This Summer in Michigan With These Tips
When it comes to keeping safe it's not only a single thing that you can do. In fact, for family trips keeping your family in the loop with some of these tips can keep you safer on the road. Not only that there are some things you will need to do with your car in order to have a safe trip.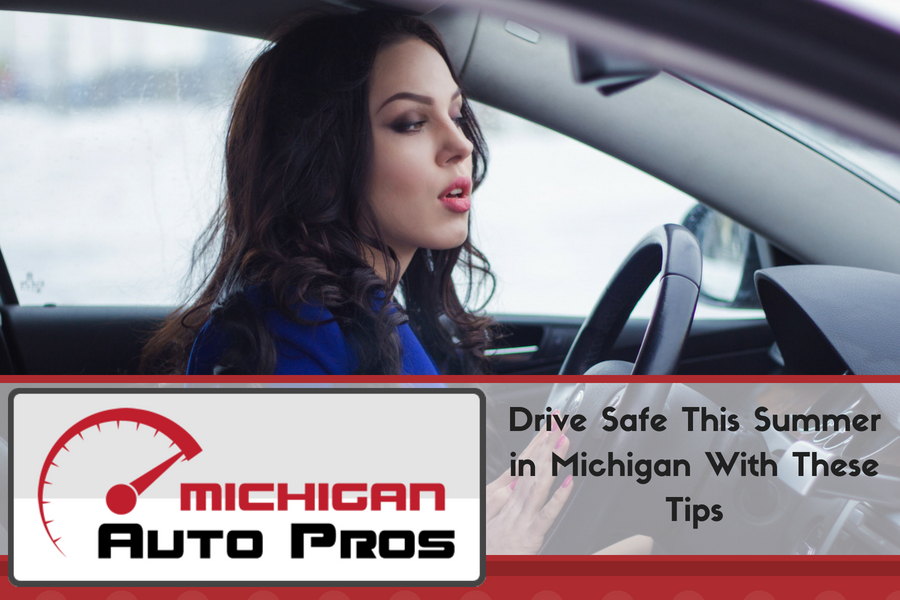 Getting a Tune Up Before Long Journeys
Are you planning on taking a vacation soon? It's best to make sure your car is in good working order before you start out. Having auto issues on the road in a strange place is not fun at all. It can also be very dangerous as well. Breaking down on the interstate can be a truly life threatening situation sometimes. Not only that but the costs will go up exponentially when you have auto issues on the road. Before you strike out for the wide open spaces be sure your car has a thorough tune up. Have the mechanic look for any potential problems and inform them that you're going to be on a long trip. This can help locate problems that are not so common and may potentially fail once on the open road.
Keep Some Supplies in the Car
During winter in Michigan when you break down on a freezing night it can be really dangerous. Most of us know that and keep a blanket in the car along with other supplies. Sometimes removing those items in summer is not such a good idea. Keeping supplies in your car can certainly make the trip safer. Here are some items that you should consider keeping in your car for safety:
Cellphone and car charger
First aid kit and bandages
Flashlight or roadside strobe / Flares
Jumper cables
Non-perishable food items. (Canned foods work great here if you also have a can opener)
Potable water
Blankets
While these things may not seem all that important when you are in a situation where you need them it can truly become life saving. Plus, these items will take up very little space in the trunk of your car. Change and check these items before a longer road trip this summer as well.
Check Your Allergies
Driving in the summer means driving around with pollen floating all throughout the air. Driving down the interstate at 70+ miles per hour sneezing like crazy is not the the safest condition. Make sure you have allergy medicine if this is a problem for you during summer in Michigan.
Get a Clear View
With summer comes more rain that we'll need to deal with. Make sure the wipers on your car are in good condition. During winter with snow and ice here in Michigan our wiper blades can take a beating. When it's summer its a great time to replace those and be able to see clearly even in heavy downpours. You'll also want to make sure your windshield is clean to avoid sun glare which can be blinding for drivers.
Get your Car Checked in Michigan Today
If you're planning a summer trip this year make sure you get your car checked out completely by certified mechanics to ensure it's in great condition. Even if you aren't taking a trip making sure your car is working as it should is crucial to keeping it on the road longer. One place that has qualified mechanics in the Downriver Michigan area is Good Care Auto. They have a full staff of ASE certified technicians ready to help you get your car in great condition and ready for summer. Call them today for details on their services offered at (734) 285-1188