Let's face it, no one wants to break down and need a towing service for their car. But unfortunately, things can happen which are out of our control and we must use a towing service to come help us out. There are many different towing services in the Downriver Michigan area but they are really different in many ways and finding the best towing company to come to you when you need them is important. There are some things you'll need to consider when getting your car towed or if you need roadside assistance which I'll go over in this article to help you. 
Choosing the Best Towing Company in Downriver Michigan Tips
Years ago, people who broke down beside the road would grab their trusty toolbox and work on their cars to get them back going again. But most cars today have sophisticated systems that need qualified professionals to work on. These systems also help keep the car going longer and more fuel efficiently as well. But if you need to get your car towed or get roadside assistance on your car, none of that matters. what matters is that you get home safe or get your car going again so that you can go to your destination.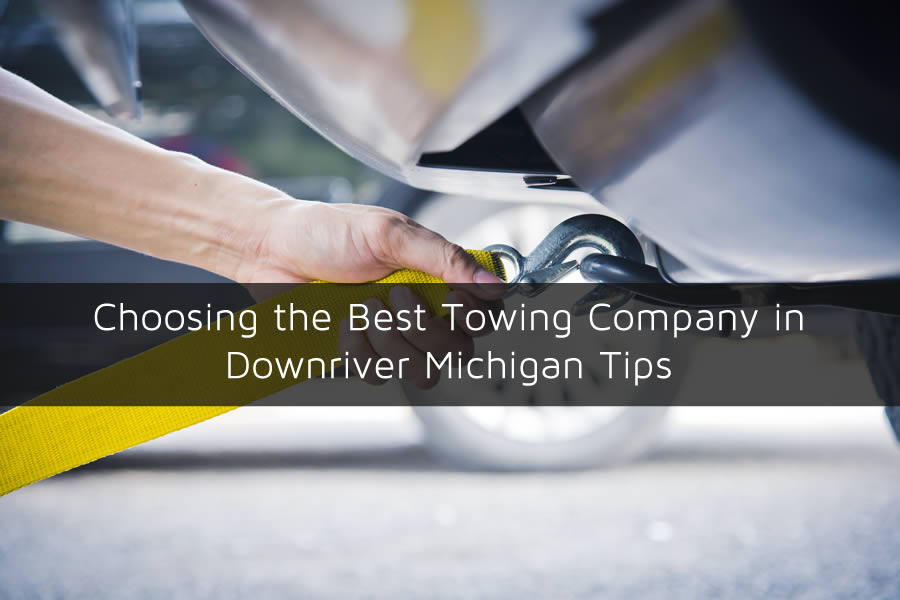 Is Your Situation an Emergency?
There are situations where getting a towing service is not just a way to get your car to the repair shop but also to get you out of a jam. During the colder winter months in Downriver Michigan breaking down beside the road is not just an inconvenience but it can also become a very dangerous situation. With temperatures that can quickly dip below freezing during some of the colder Michigan nights having a towing company in Downriver Michigan that can get to you quickly and deal with the situation can be extremely helpful. If you are in an emergency situation having a towing company that can be there quickly and get you the help you need is crucial.
Getting Road Side Assistance
Sometimes when things happen on the road you really don't need a towing company to come and tow your car into the repair shop. Things can sometimes happen that puts us in a position to need a bit of help. Times like when you don't realize you needed gas or you leave your lights on and it drains your car's battery are times when you need assistance but not a tow. Having a towing company in Downriver Michigan that has mechanics and service personnel on duty to help you in these situations can really help to relieve some of the costs involved in this situation. Getting a simple jump-start or getting a splash of gas is usually inexpensive and much cheaper than getting your car towed to a repair shop. Make sure you use a towing company that offers roadside assistance to save money.
Getting Towed Without Damages to Your Car
Cars from a few decades ago had metal bumpers that tow trucks would hook to and winch up the car. Today, almost all cars have plastic or fiberglass covers for the bumpers on the cars. So having a towing company to come out and tow your car can be problematic if they don't have the proper equipment to tow it. Towing companies have different style trucks and rollbacks that are used to minimize the damage that occurs when towing a car. Make sure you choose a towing company that can safely tow your car without damaging it.
Getting Repair or Storage When Needed
With so many different systems and components on today's cars there are many things that can go wrong. The towing company in Downriver Michigan that you use needs to be able to repair the damages to your car. If the damages are caused by an accident or just a problem with it running. Make sure you use a qualified repair or collision shop to service and repair your car. You may need to also pay storage fees for the vehicle if it's left for an extended time.
Need a Tow Today in Downriver Michigan?
If  you need a tow truck today be sure to call Good Care Auto at (734) 285-1188. They offer towing and repair service in Downriver Michigan. Good Care Auto has ASE qualified mechanics and offer 24 hour towing service in Downriver Michigan. Call them today to get your car towed safely and professionally.