Having a car that is unique to you is something that many people want. They want to showcase their personality through their car and drive a car that turns heads where ever they go. If you want a vehicle like this then you'll need body modifications done to your car. There are many different things you can do to a car to make it unique but body modification usually give you the best bang for the buck. This article will discuss some of the body modification in Downriver Michigan that you can have done. 
Make Your Car Stand Out with Body Modification in Downriver Michigan
Making your car stand out from the crowd isn't as difficult as many would think. Just by making a small body modification to your car you can have drastic effects on the look of your vehicle. I've listed below some of the things that can make a car look much different but are relatively small changes. All of these changes can be handled at local repair shops that do body modification in Downriver Michigan.
Add a Body Kit to Your Car or Truck
Body kits are one of the most popular body modification products. They are essentially add on products that are bolted, welded, or otherwise connected to the existing body of the car. Sometimes body panels or bumpers will need to be removed from the car in order to place these body kits on the car. Most body kits come with an air dam for the front of the car, two side skirts that go under each door, and a rear bumper that usually extends the rear bumper lower to the ground.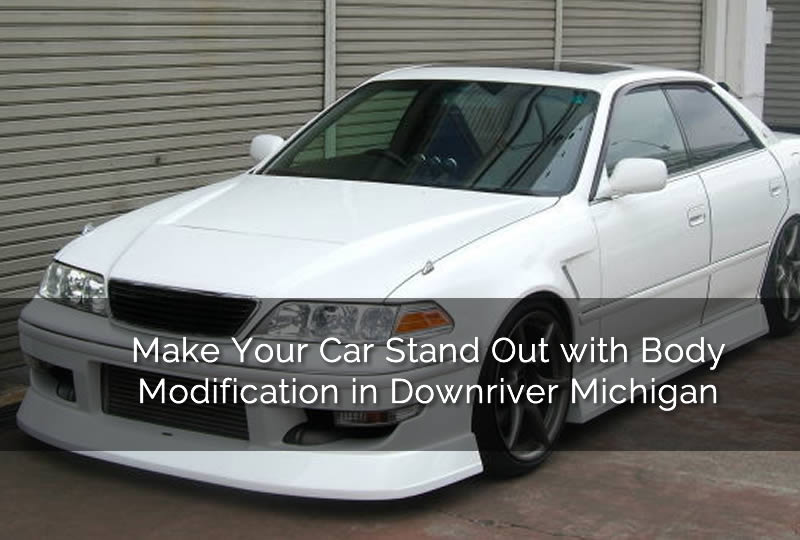 Most body kits are made from fiberglass. In some premium kits they may be made from carbon fiber which is much stronger but also expensive. Since the body kits are likely made of fiberglass you'll also need to have the body kit painted. Sometimes it's best to find collision shops in Downriver Michigan that can handle painting and installing the body kit. Otherwise you may need to take the car to two seperate repair shops in Downriver Michigan.
Rear Spoilers for Cars and Trucks
Rear spoilers for cars and trucks is another body modification in Downriver Michigan that you can do to your car or truck. It adds a unique sporty look to a car and can make an average car look more like a sports car with a simple add on. Rear spoilers may also help the rear traction of the vehicle as well. Be sure to get a certified repair shop to handle this modification however. There is a huge amount of down force on the read spoiler and if it's installed incorrectly it may fall off the vehicle.
These simple body modification in Downriver Michigan projects can make your car more unique. Just by the addition of these two products your car can stand out and look much better than the ordinary stock car that you initially purchased. If you're ready to take your car to the next level then be sure to get a body kit or rear spoiler today.