Tires are your car's shoes, and like shoes, different tires serve different purposes. For many, the search for a new set begins when the current ones are worn to their limit.  Most drivers want a tire that can perform across a range of conditions at an affordable price. When shopping for tires in Downriver Michigan, several factors must be considered. The type of vehicle you drive, and the size of its wheels have a tremendous influence over the cost of tires. 
Need New Tires in Downriver Michigan? Check These Tips
Many specialty tires that excel at a specific task will also cost more, despite being less versatile. Shopping for such a seemingly mundane object can start to feel a bit overwhelming when bombarded with technical jargon, sizes, and of course, prices. Let's break down a few important points to make tire shopping in Downriver Michigan a little less, well, tiring.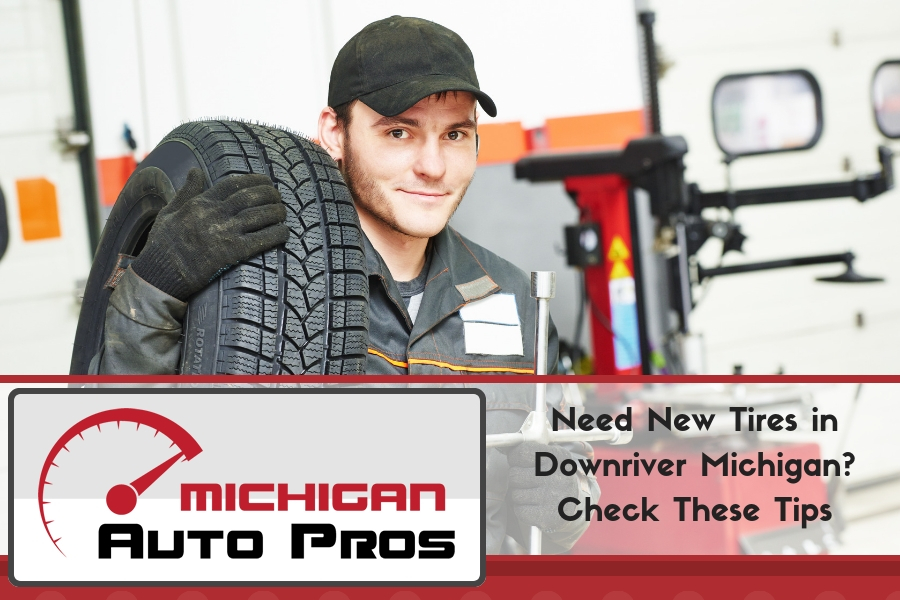 Wheel Size
For most vehicles, the wheels that come with it are the ideal size. During its design stages, engineers carefully select the right wheel dimensions to best suit the car's intended purpose. It goes without saying, the larger your wheels, the larger your tires. Some people choose to equip their vehicle with larger aftermarket wheels. This is commonly seen on trucks and SUV's, and while serving some practical purpose, it is done primarily for looks. For the driver who enjoys a bit of off-roading, larger wheels provide less rolling resistance when approaching obstacle, but at the same time effect fuel economy, acceleration, and handling. While looks are subjective, many would agree larger wheels (and thus, tires) enhance a vehicles appearance. It's important to consider the size of your vehicle's wheels when budgeting for a new set of tires.
Speed Rating
All modern tires are equipped with a speed rating as designated by a letter commonly placed on the sidewall of the tire. Tires with a higher speed rating offer a smoother ride, better grip, and enhanced stopping power at the penalty of a shorter lifespan and higher cost. Speed ratings typically start at the letter "L" and work their way up through "Y". Tires of a lower speed rating are often found on trucks and off-road vehicles, while the middle is reserved for common commuter sedans, vans, and SUV's. Vehicles with sporting intentions may come equipped with "H" or "Z"-rated ties, while "Y" is normally standard equipment on fast and exotic sports cars. It's entirely possible to equip a car with tires bearing a speed rating different from that which it currently has. However, for liability reasons, some service shops may not install tires with speed ratings lesser than what was originally specified by the manufacturer. A tire's speed rating isn't the only factor that contributes to cost, but it's a significant one, and should be taken into consideration when shopping for tires. 
Types of Tires
Trying to decipher the massive selection of tires offered by today's manufacturers is daunting to say the least. Your time is valuable, so let's not belabor you with the fine details of each, and instead concentrate on the most important considerations when shopping for new tire types.
Winter Tires – As the name suggests, winter tires are best used when the mercury plummets. Cold weather brings snow, sleet, and ice, which can mean bad news for drivers. Snow tires typically have deep, chunky treads and may or may not be equipped with small studs for digging into ice. Snow tires are typically louder, wear faster, and increase fuel consumption. Drivers shopping for a set of snow tires to replace a worn set should remember that they are typically a seasonal-use tire. Leaving snow tires on year-round generally isn't advised, so they're best regarded as a temporary fix for those in need of a new set of tires.
All-Season Tires – Perhaps the most common, all-season tires aim to provide good performance over the full gamut of driving conditions. While some will debate whether an all-season can replace the need for snow tires, there is little doubt that a good set of all-season tires can handle most anything Mother Nature throws their way. Most manufacturers offer several all-season tires that favor one weather condition, while being sufficient for the rest. Be sure to note the types of conditions you're most often driving when shopping for a new set and ask your service provider which they recommend.
Summer Tires – The highest-performing tires when faced with optimal road conditions generally sit in this category. Some of these tires feature minimal tread (often the minimum legally allowed) and really are best suited for warm, dry roads. If you drive a performance car, summer tires may allow you to better realize its capabilities. Like all-season tires, summer tires generally have a range of types, with some better equipped for handling an unexpected rain shower or dusty back road. Others may also be engineered to handle spirited driving while keeping road noise at a reasonable level.
This is hardly an exhaustive list, but it does underscore what are likely the three most common types of tires you'll be faced with when shopping for a new set. Most vehicles list an OEM-spec tire – that is, the type of tire the car was equipped with from the factory. While these tires would serve as a fine replacement if a new set is in order, the aftermarket offers a staggering number of choices to suit every vehicle and budget.
Just because a tire has an attractive profile, or an aggressive tread doesn't mean it'll be the optimum choice. Tires are made from a wide range of rubber compounds, with some offering better handling than others, and some a longer life. Be sure to ask your service provider about rubber types, traction, and lifespan if you've any doubt.
Eventually you'll be faced with the need for new tires in Downriver Michigan, and it's best to arm yourself with basic knowledge beforehand. Tires are relatively inexpensive in terms of labor costs, although large or exotic tires can easily run into four figures for a good set. If you're in need of a new set of tires in Downriver Michigan, preparing for the colder months, or maybe just researching the cost of ownership before purchasing a new vehicle, we urge you to stop by Good Care Auto. Their industry-trained tire technicians can help you decide which type best suits your vehicle and driving style. They offer tires from all the leading brands and can have you back on the road in no time. Call (734) 285-1188 and schedule an appointment with Good Care Auto today!